Is It Time To Upgrade Your Face Masks?
Concerns over faster spreading Covid-19 variants have prompted governments to mandate higher quality face masks to the public. Countries such as Germany and Austria now require 'filtering face piece' (FFP) masks to be worn on public transport and in shops, with France imposing a ban certain homemade masks in favour of higher-grade options. Several European airlines are also mandating FFP2 masks for all passengers in order to travel.
Some scientists in the UK believe people should consider wearing medical-grade masks to combat the spread of more transmissible variants too.  In a recent Guardian article, Dr Allen Haddrell at the University of Bristol's Aerosol Research Centre stated that "Increasing the number of people correctly wearing high-quality masks will dramatically limit the degree to which Sars-CoV-2 can be spread through the aerosol phase."
The UK government have mandated that face coverings be worn within public indoor settings and transport. However, some experts believe that a loose term of 'face covering' doesn't go far enough and that many people may not be as protected as they think they might be.
"I am convinced that [fabric face coverings] as well as the even flimsier versions commonly worn by the public are a serious weak point in efforts to control the spread of Covid." says Alex Donaldson, former head of the Pirbright Institute and a visiting professor of virology at the Royal Veterinary College.

Why Are FFP Masks Being Mandated In Some Countries?
There are significant differences in how effective difference face masks are, ranging from basic homemade cloth masks, to PPE compliant respirators.
The big difference been 'filtering face piece' (FFP) masks and most other types of mask is their non-woven fabric construction is better at stopping spray and droplets, as such they are designed to protect the wearer from breathing particles in, in addition to filtering exhalations. Other styles of looser fitting masks primarily offer some protection to other people from potentially being infected by the wearer, but do not filter the inflow of air.
Trisha Greenhalgh, professor of primary care health sciences at Oxford University states that the medical mask is "widely recognised as a better and more standardised viral filter than most cloth masks."
Because FFP masks are designed to also offer protection to the wearer, they are classed as PPE and are recommended for use in healthcare settings where there is exposure to infected individuals. These masks must therefore comply with British Standard EN149:2001 and be CE marked. Most other types of mask do not have to meet a specific rating or provide a regulated level of protection.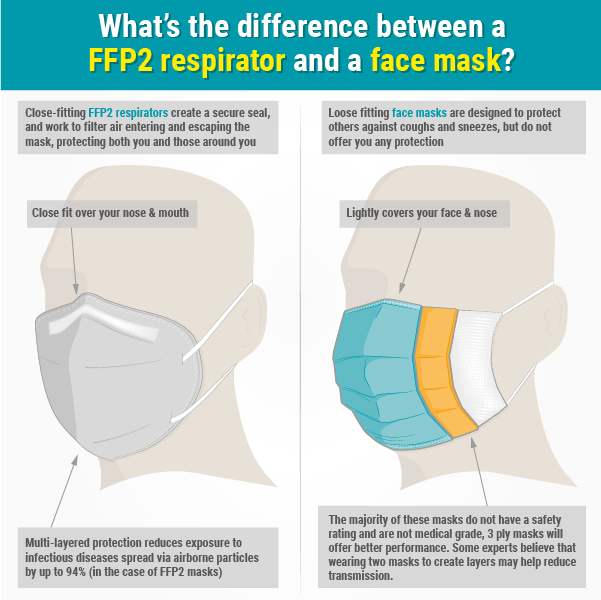 FFP masks feature can be shaped to ensure a snug fit and should create a seal where no air can slip out in order to work effectively. There are three grades:
FFP1 filter at least 80% of airborne particles greater than 0.3 microns in diameter
FFP2 filters at least 94% of airborne particles greater than 0.3 microns in diameter (the equivalent of N95 or KN95 masks in the US and China respectively)
FFP3 filters at least 99% of airborne particles greater than 0.3 microns in diameter (the equivalent of N99 masks in the US)
FFP masks are typically designed to be single use which can mean they represent an ongoing cost and create waste. However, due to the standard of protection they provide and the perceived impact this may have on Covid transmission levels, various countries have begun mandating them in certain settings as new variants threaten to take hold.
One solution could be keeping a limited amount of FFP masks to hand specifically for wearing in busier or enclosed areas, or for businesses to offer FFP masks to staff and visitors for use on site as part of Covid Secure protocols.
Double Masking
Alternatively, double masking may be a more affordable way of enhancing protection and reducing the transmission of Covid-19. A recent article in the New York Times suggested wearing two masks such as those constructed from a 3 ply material may further inhibit virus transmission.
Based on scientific studies cited within the article, Dr. Lindsey Marr recommended wearing face-hugging cloth masks over Disposable 3 Ply Masks, which tend to be made with more filter-friendly materials but fit more loosely.
Depending on your requirements and how the UK rules surrounding face masks develop, our extensive range of face covering products range from higher specification FFP masks, to reusable cloth masks, snoods, face shields and visors for you to select from.  Any face covering should be clean, dry, fit comfortably and snugly, cover the nose and mouth, and not inhibit breathing.
Comfortable CAT III PPE, FFP2 protective respirators
5 layered protection reduces exposure to infectious diseases
As Low as

£3.95

per Pack of 2
FFP3 masks protect against dirt, dust and biological hazards such as viruses
Supplied in packs of 2 or 15 individually wrapped masks
As Low as

£8.95

per Pack of 2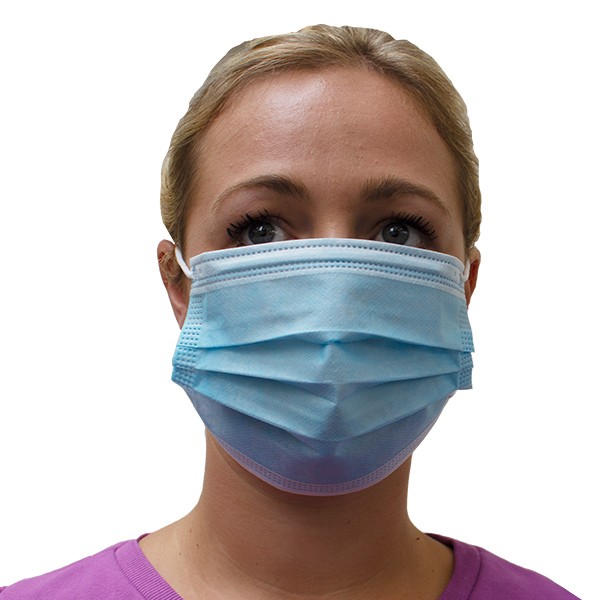 Disposable face masks feature ear loops to hold them in place
Made from a soft 3 ply non-woven material
As Low As

£12.60

per Pack of 10